Now I don't usually take part in quilt-a-longs, in fact I think I have only done this once before in all my 6 years plus blogging history! But something about this new Farmer's Wife 1930s Sampler Quilt books and it's delicate tiny blocks really appealed to me.
Kerry
announced she would be hosting this QAL (starting on September 14th) a few weeks back, and before I knew it I found myself agreeing to take part and even write a few guest posts! You can read all about the QAL
here
.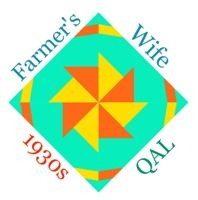 With this project in mind I bought a few repro-style fabrics from the lovely Jessie's stand '
Sew and Quilt
' at the Festival of Quilts on Friday.
I had such a lovely day in Birmingham, looking at gorgeous, inspiring quilts (including 2 of my own!), a little light shopping and the best bit - meeting up with loads of quilty pals!! I thought I had done really well bumping into so many until I got home and realised via social media how many I had also missed!
Even though the QAL doesn't start for another month I couldn't wait to have a go at one of the blocks. I have started with Crystal, it's one I am guest posting with and it looked like a nice one for some EPP.
The book comes with a CD the includes both Foundation Paper Piecing patterns and regular templates. I printed out 4 copies of the regular templates and used these to EPP this block.
And shock horror... I glue basted them!! Well, they were such tiny pieces and I knew I wouldn't be re-using the templates.
I changed the fabric placement so it looks a little different to the original. I also tried hard to limit myself to just 3 fabrics like the author does in every block (very hard for me!). I don't think I will EPP every block (I don't think for a moment I will make every block - there are 99!!!), I will probably use a mixture of techniques depending on the design. But I do like the idea of hand sewing as many as possible.
The book also contains a letter from the magazine to accompany every block. These were written during the depression by farmer's wives and are very moving and a fascinating insight into life back then.
So I hope some of you will join me when the Farmer's Wife 1930s QAL starts in September! There's still plenty of time to get hold of a copy of the book and start planning your fabrics.
Or just follow along with my progress here!